Chandeliers are important highlight items in dining and living spaces of homes. You can make your room amazing by changing a conventional bulb by an outstanding crystal chandelier. An unclean fitting demonstrates a bad image of you. It also reduces the elegance of your living or dining room.
Here is step-by-step info and guideline on how making your chandelier cleaning properly:
At first you need to eliminate the dust on the chandelier one time in a week. If you are doing a frequent dusting you can protect from a huge accumulation of dust in a chandelier as it will be hard to thoroughly clean all of a dust if it has been left a long time. You should bear in mind that before doing any type of cleaning activity, you need to turn off the electrical power to your lighting fixture to stay away from electrocution. Please take some time to let the light bulbs cool-down before you begin cleaning, if you have been using the chandelier. You need to put the bulb of chandelier in some soft towel or cooling down the place so as to clean it properly.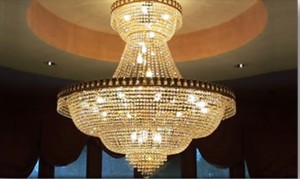 At the time of Chandelier Cleaning, you should put a thick carpet under it to get any dropping pieces. This will also help avoid falling crystals or glass from destroying your wooden household furniture or floors. You also require to clean the place as well where you are about to hang up the chandelier so that your chandelier will be secured towards the dust for some time. At the time of cleaning you need to eliminate the bulb carefully and then cover it in some plastic-type bags. By doing this you can avoid it from dust and contamination. You need to move anything vulnerable far from the cleaning area.
Always clean chandelier by parts. You can use the bathtub to clean it proficiently and you can clean it with some soap or shampoo to make it more shiny. In chandelier cleaning you need to use the company items so as to manage it's excelling for long of your chandelier. You should bear in mind that never ever use scrubbers or acid to get rid of its dirt, just use high quality cleaners to get rid of its dirt.
If you are thinking about crystal chandelier cleaning which haven't been cleaned for a long time, then you should better thoroughly clean it is by separating each of the crystals. You need to do this by using warm water with soap. You should not use so hot water for the reason that this is harmful for the crystals.
If you are separating each part of a chandelier light then you need to deep clean all the parts carefully. You need to clean all the parts and then cover it with the plastic bags. Take away the plastic at the time of rearranging so as to prevent it from getting dusty and keep its shine for more time. So if you are cleaning your light properly then this work of art can bring a tasteful attraction to your home.