Chandelier is quite a wide term used to describe a specific style of lighting fixture. It is a word most often used in the lighting industry but do you really know what it is when you hear the word chandelier?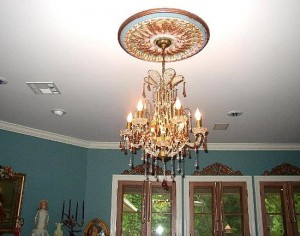 Fundamentally a chandelier is a light which is suspended from the ceiling. It can be suspended a variety of different ways however; it can be hung through the ceiling or from a hook that has been attached to the ceiling, or it can be installed from a winch. How it is hung will be dependent on the room it is being hung in, the height it is being hung from and how the specific chandelier will be hung best.
A chandelier te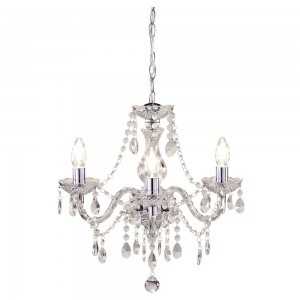 nds to have arms or branches on it; at the end of these branches is where the bulbs will be to illuminate the room. The lowest number of arms a chandeliers tends to have is 3, and the largest number is ultimately limitless. Chandelier sizes can vary and so therefore the number of arms can vary too. The length of the arms will also be dependent on the size of the chandelier – the bigger the chandelier, the longer the arms tend to be. The arms can be made of different materials and look differently; they can be decorated which is seen in the more elaborate fixtures, or glass arms which are simply but elegant. These different types will match the rest of the style of chandelier.
Chandeliers are what you would imagine – traditional and a showpiece. However variations are being made now to make them look more modern. There are many chandeliers which have lamp shades at the end of the arms instead of the candle bulbs. This is different but creates a modern twist which is becomingly increasingly popular for those that can think the traditional chandeliers would be too much for their interior.
Candle bulbs are the only light bulb used in chandeliers, this is because they are reminiscent of the first chandeliers which used candles to illuminate a room. There are different types of candle bulbs which can be used to create different effects; some which are decorative with their filaments on show, others that are LED and halogen, others where the glass can be tinted a different colour. The sky is the limit when it comes to what bulbs to use in a chandelier!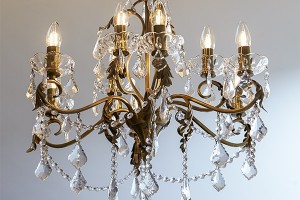 Crystals tend to decorate a chandelier to create more of a light refraction and give sparkle to a room. There can be a different amount of crystals on each chandelier to create different effects and again, meet individual's desires and design requirements. Basically chandeliers can be made to how you want them but we hope this is informative and indicates the extent of the scope of details that can be changed.