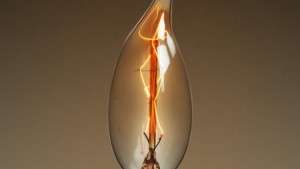 Whether you're looking for an elegant lighting fixture to revamp your hallway, add character to your dining room, or set a unique tone in other places of your home, chandeliers can be the perfect choice for creating such a big impression. Today's contemporary and sophisticated styles offer an extensive range of fixture designs.
Apart from style and materials, you should consider several other factors when choosing your ideal bulbs for chandeliers; size, dimming options, light output, and type of light source are some of the things you shouldn't forget.
Choosing Your Chandeliers
In addition to style, the main factors to selecting an ultimate chandelier for your space are size, dimming/control, and direction of the output light.
Having something very small or too big can lead to a disproportioned look. A 30-inch tall chandelier suspended from the middle of a room with 8-inch ceilings will feel awfully low and appear strange. Again, having extremely small pieces will seem like they're dwarfed by the room.
To make right choices about the size of your chandelier, use the following reliable "rule of thumb" method.
• Measure your room's length and width (in ft)
• Sum up the two numbers
• The total value obtained above should be your chandelier's diameter in inches
Remember, this is just a simple guide. If you want something more accurate, try an online chandelier sizing tool.
You also want to ensure that the light produced by the lighting fixture isn't glary. There's nothing boring like sitting at a dining/living room with the strong glare of a bright light shining directly on your face. What's the direction of the light? Are the bulbs obscured or exposed? If they're exposed, consider adding a control switch/dimmer to your chandelier so as to regulate the light output.
Modern or Contemporary Design: The Available lighting trends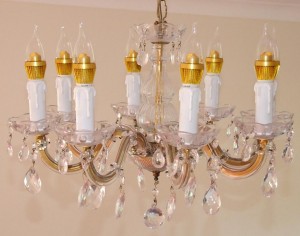 For a more stylish look and design, concentrate on chrome or satin nickel finishes. Today, bronze finishes are more common in transitional bulb fixtures that combine design aspects from both conventional and modern styles. Contemporary designs now trend towards satin nickel & chrome. Also go for clean lines, featuring liberal amounts of ornate decoration. Remember, the finish and materials of your chandeliers should compliment your home's interior décor.
Chandelier Sizes
Chandeliers are often sized by diameter & height. But the number of bulbs used might also impact on their size. The recommended diameter is ½ to 2/3 of the dining table's width. This means that your chandelier's diameter should be around 26 t0 30 inches.
Consider your ceiling's and chandelier's height before making your purchase, too. The lighting fixture should be suspended 30″- 36″ from the apex of your dining table to the bottom of the chandelier itself. If your ceilings are tall, a 2 or 3-tiered design would work magic. There are always great options for both round and square tables to properly size your dining room chandelier.
Brightness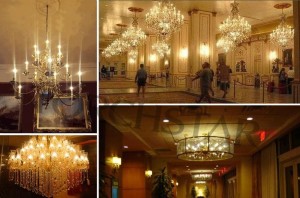 Chandeliers are decorative fittings, meant to impart a feel of luxury and ambiance to your home, so don't expect them to be a primary source of light. This is one big mistake that most people make. Installing a chandelier in the middle of your room and expecting that it will sufficiently light the whole room is actually a recipe for poor lighting. This is even worse if the bulbs are exposed.
Chandeliers work best when utilized as an auxiliary light source or when integrated into a layered lighting design. For instance, incorporating wall sconces, recessed cans, or cover lighting in a room are incredible ways to highlight the space, accent walls, cabinets, paintings, and countertops.
Sometimes it is good to install something unexpected instead of going for that ordinary look. But ensure it perfectly suits your personal preferences!